2020 AMEC Rising Star Honoree
Vera Golosker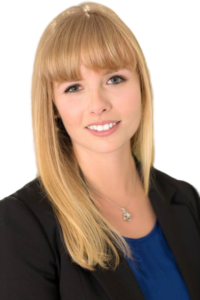 Vera Golosker is Counsel, Business & Legal Affairs at Metro-Goldwyn-Mayer Studios (MGM). She works with the development team in the unscripted television division.  Prior to her role as Counsel, Vera worked as Production Attorney on the Emmy Award-winning series Shark Tank.  Vera's duties included managing all matters relating to production legal affairs, including negotiating and drafting above-the-line deals, production services agreements, location agreements, and licenses.  Vera advised on a multitude of intellectual property issues, engaging in risk assessment and contract interpretation in connection with the series.
Before joining MGM in 2017, Vera was a litigator at a boutique entertainment law firm in Beverly Hills, handling intellectual property, entertainment, contract, and employment disputes.   
Vera studied at U.C. Hastings College of the Law in San Francisco, where she was Alumni Editor of the Communication and Entertainment Law Journal. Vera volunteered at the Cooperative Restraining Order Clinic, the Institute of the Bay Area Immigration Clinic, and was highlighted by the U.S. Embassy in Argentina for her work with Voluntarios Sin Fronteras.  Vera received her B.A. in 2009 from USC, where she studied Philosophy, Spanish, and News, Media & Society.  
Vera is part of the mentorship program for Jewish Big Brothers Big Sisters and fosters dogs through Wags & Walks. She co-wrote an article, The Price of an Improperly Disclosed Social Media Ad, which was published by Law360 in February 2019.  Vera is Chair Emeritus of the IP Section of the Beverly Hills Bar Association and is Vice Chair of AMEC's Emerging Leaders Board.  
About the Awards Ceremony
The awards ceremony will be held on January 25, 2020 at the Manhattan Beach Country Club.  For tickets visit https://theamec.org/2020-registration/  For further information including sponsorships and table purchases, please contact Aisha Harris (aharris@theamec.org), (310) 432-0550.  An announcement on all honorees is forthcoming next week.
AMEC 2020 Counsel of the Year Awards Honoree Announcement – Vera Golosker: Rising Star