AMEC 2020 PwC Daniel Brandhorst Dealmaker of the Year
Madhu Goel Southworth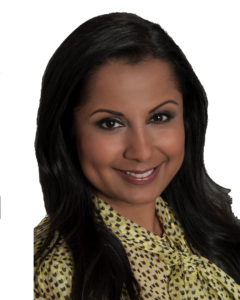 Madhu Goel Southworth is Senior Vice President, Legal & Business Affairs for AMC Networks. In that capacity, she advises and counsels the network business departments on unscripted development and production matters, as well as digital content and branded content studios. She also supports the company's advertising sales efforts in linear and digital advertising, as well as the marketing and brand franchise teams behind the company's top shows, including consumer products, licensing, live events and sponsorships, and gaming. Southworth joined AMC Networks in 2009, just three weeks before the company greenlit "The Walking Dead," and was one of the key team members involved in the launch of the company's studio operations, AMC Studios.
Prior to AMC, Madhu worked at A&E Television Networks as Director, Legal and Business Affairs providing counsel and negotiating development, production, and talent agreements in both their unscripted and documentary departments working on television series and documentaries. 
Madhu graduated from University of Chicago Law in 2001, spent a year at a federal judicial clerkship in the Southern District of New York, and was an associate at Sidley & Austin in New York.  Following her time at Sidley, Madhu joined Frankfurt Kurnit Klein & Selz, P.C., an entertainment law firm, where Madhu worked on cases involving the Mutant-X/X-Men properties, a variety of productions including Juno, The Namesake, and Synecdoche, and represented talent in their deals with HBO, Viacom, and other studios. 
Madhu has volunteered her time for a myriad of committees and causes.  Currently, Madhu sits on the steering committee of the Women's Committee of the Association of Corporate Counsel; the in-house steering committee of the South Asian Bar Association of New York; serves on the Board of Trustees to The Town Hall; and also on the Board of ReelWorks, an organization dedicated to educating disadvantaged youth through filmmaking.  In 2016, along with colleagues at HBO and Amazon, Madhu founded Lattice, a networking organization for senior in-house women counsel in media, entertainment, and digital.  In March 2019, Madhu will be recognized as a "Wonder Woman" by Multichannel Magazine, one of the highest honors given to women working in the television industry.  In 2018, Madhu completed her year-long Fellowship in the Betsy Magness Leadership Institute, the premiere leadership program for women executives in television.  In 2015, Madhu was recognized by the North American South Asian Bar Association as "Corporate Counsel of the Year".  In 2014, Madhu was recognized by the National Association of Minorities in Cable (NAMIC) as a "Luminary" and in 2013, Madhu was nominated by the General Counsel to represent her department in a company-wide leadership and executive training program, "Leading with Impact".   Madhu was also recognized as one of the "Most Powerful Women in Cable" by Cablefax Magazine in 2017, 2018, and 2019.  In addition to advising and mentoring rising lawyers, Madhu founded the AMC Legal Internship program in 2009 and continues to steer it every summer.    Madhu is a frequent national speaker and moderator on issues related to entertainment law, mentorship, diversity, and issues that impact working women and mothers.
About the Awards Ceremony
The awards ceremony will be held on January 25, 2020 at the Manhattan Beach Country Club.  For tickets visit https://theamec.org/2020-registration/  For further information including sponsorships and table purchases, please contact Aisha Harris (aharris@theamec.org), (310) 432-0550.  An announcement on all honorees is forthcoming next week.
AMEC Counsel of the Year Awards Honoree – PwC Daniel Brandhorst Dealmaker of the Year: Madhu Goel Southworth