Music Industry
Market Update | Spring 2020
In recent weeks, COVID-19 (better known as coronavirus) has globally sent shock waves through markets and captured the attention of the world. Since mid-February, the outbreak has accelerated and infections have become widespread, resulting in significant market volatility that is expected to continue for the foreseeable future. Substantial disruption to business operations has occurred, and all sectors of the economy have been impacted, including the music industry.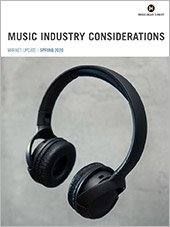 At this point, it is impossible to know how long the outbreak and shutdown will last or the lingering effects on businesses, the economy, and the credit and M&A markets, but despite temporary disruption of live events, we believe that once business resumes, the music industry will continue to see high levels of activity as companies respond the impacts of COVID-19. We have included industry insights to help you stay ahead in this dynamic and constantly evolving sector. Driven by growth of streaming music, the sector has seen continued consolidation (such as Tencent's acquisition of a stake in UMG and Pandora's investment in SoundCloud) and evolving dialogue around artist remuneration. Despite the current disruption, we expect activity to remain high for the foreseeable future as the sector continues its evolution, the key players refine their strategic goals, and artists continue to fight for their share.
We understand the anxiety created by these uncertain times, and we are here to share our perspective based on our real-time conversations with industry executives and our comprehensive views on the markets—M&A, public equities, and credit. We will continue to monitor this rapidly evolving situation and look forward to staying in touch.
Technology, Media & Telecom (TMT) Group Contacts
Houlihan Lokey (NYSE:HLI) is a global investment bank with expertise in mergers and acquisitions, capital markets, financial restructuring, and valuation. The firm serves corporations, institutions, and governments worldwide with offices in the United States, Europe, the Middle East, and the Asia‑Pacific region. Independent advice and intellectual rigor are hallmarks of the firm's commitment to client success across its advisory services. Houlihan Lokey is the No. 1 M&A advisor for the past five consecutive years in the U.S., the No. 1 global restructuring advisor for the past six consecutive years, and the No. 1 global M&A fairness opinion advisor over the past 20 years, all based on number of transactions and according to data provided by Refinitiv (formerly Thomson Reuters).
Music Industry Market Update | Spring 2020