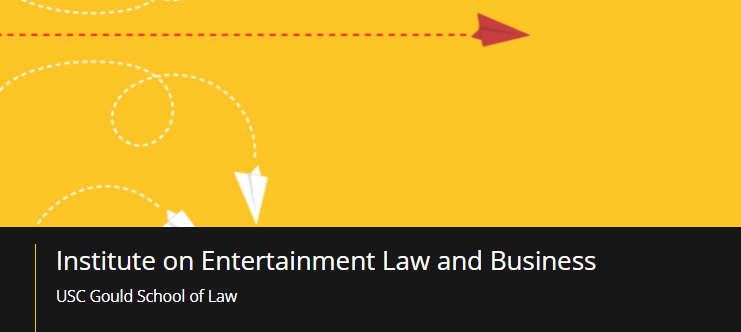 2021 Institute on Entertainment Law and Business




Virtual




October 16, 2021
Join the USC Gould School of Law and the Beverly Hills Bar Association for the 2021 Institute on Entertainment Law and Business on October 16.
EVENT UPDATE: After careful deliberation, the Institute committee has made the decision to host the 2021 Institute on Entertainment Law and Business in an exclusively virtual format.  We look forward to connecting with you online!
Engage with renowned speakers and address the latest challenges facing the entertainment and business world. From presentations to panel discussions featuring prominent industry leaders, the is the can't-miss event of the year for entertainment law and business professionals.
---
Instructions for AMEC Members
AMEC Members Discounted Pricing:
AMEC membership $50 off of $379, so their total will be $329. 
To register online:
Log in (or create an account) using the following link: https://weblaw.usc.edu/why/academics/cle/entertainment/register/index.cfm
Click on Institute on Entertainment Law and Business and Register Now in the left hand navigation list.
Attendees will need to create an account or log into an existing account (password reset emails can be automatically generated).
Select General Virtual Registration (Early Bird) and enter the applicable REGCODE: AMEC2021SPECIAL
On the next page, you will see the rate has been decreased to $329.
If you have any registration questions or problems, please do not hesitate to contact the CLE Office at cle@law.usc.edu.
---
About the Institute
For over 65 years, the USC Gould-BHBA Institute on Entertainment Law and Business has been the premier conference for entertainment professionals in the nation.  Join the industry's most powerful players for an in-depth examination of the latest entertainment law issues and business perspectives.
Registration
Registration for the 2021 Institute on Entertainment Law and Business is now live. 
Visit the registration information page for more information on fees, CE credit details, and FAQs.  
Sponsorship Opportunities
Sponsorship includes ticketing, publicity and other benefits, depending on the level of sponsorship chosen. Contact Wendy Wiley Willett at wwiley@law.usc.edu for more information about sponsorship opportunities. Let us tailor your sponsorship to best serve your needs!